DefenCell: Military Applications
Personnel Protection
LITE & M1
Firing Positions
Camp Security
Collective Protection
Guard Posts & Observation Towers
Personnel Protection
DefenCell is a 100% textile, personnel protection system designed for expeditionary operations. This lightweight cellular containment system can be installed very quickly, and is ideal for troop protection in remote locations.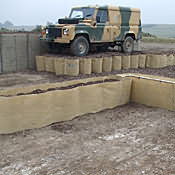 LITE & M1
LITE (Lightweight Individual Tactical Emplacement) is a compact addition to the DefenCell Force Protection range. Lightweight and with a low pack volume (an unfilled unit weighs only 3.6kgs and comfortably fits in a sandbag), it is easily stored and moved. When filled, a LITE makes a wall section 3.2 m long, 0.6 m high and 0.7 m wide, equivalent to over 100 filled sandbags.
It can be quickly filled by hand, with shovels or MHE and unlike sandbags, the LITE needs no tamping or specific building technique: simply fill it and compact by treading.
The M1 is a recent innovation to meet a requirement for a 1 metre wide barrier system for personnel protection and will provide protection against significant ballistic and blast threats yet a 5m length weighs less than 10kg.
Advantages
Quickly filled by hand or shovels or MHE.
Easy to build.
Ideal for Firing Positions or Training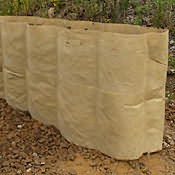 Firing Positions
The effectiveness of a defensive fighting position is often limited by the amount of time available for preparation and construction. DefenCell minimizes deployment time without compromising safety. Two LITE or Ranger units can easily be carried in a pack with other units strapped to the outside as needed.
Within minutes, troops can build individual or multiple man fighting positions, machine gun encampments, anti-air emplacements or mortar positions. Because DefenCell is 100% textile, it can be cut and shaped to create custom primary and secondary fields of fire. The geotextile cellular construction is also easy to conceal using natural or man-made camouflage.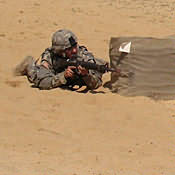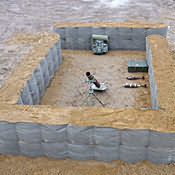 Camp Security
The smaller DefenCell products still provide significant levels of protection against small arms, indirect fire and secondary shrapnel and can be installed for compartmentalisation outside (or inside) shelters and between buildings to provide ballistic protection. Just 60cms of compacted fill material will give protection against .50cal as well as mortars and rockets.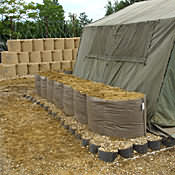 Collective Protection
Successive layers of DefenCell can be built to the desired height to provide collective protection shelters. Walls of any thickness or length can be produced to suit ballistic and vehicle impact requirements, using locally available fill materials including wind blown sand or reclaimed materials, and easily compacted to give DefenCell structural strength and durability. Using ISO containers or just roof support systems will provide a safe haven in the event of attack.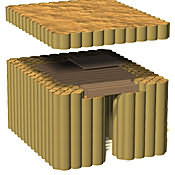 Guard Posts & Observation Towers
The versatility of DefenCell has been employed to design a range of small guard posts, sangars and ground or elevated observation posts. Overhead protection can be incorporated using lightweight metal frames or simple wood or steel supports.