Support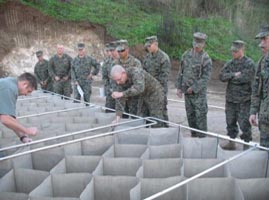 Terram and Franklin, manufacturers and suppliers of DefenCell, are committed to providing the highest quality products and support to our customers worldwide. All our manufacturing processes, distribution procedures and support services are carefully monitored to maintain quality and comply with our QA systems and practices.
DefenCell Engineers are available to answer questions and offer advice. Our Engineers are mostly ex-military and we are happy to provide an engineer on-site to provide technical assistance and guidance on installation techniques whenever required. We run training courses and will supply our Engineers to assist with pre-deployment briefings or training as needed.
We can assist with the provision of drawings (inc CAD) and samples for demonstration or evaluation.
Military, Security or Civil customers wishing to learn more about DefenCell are encouraged to contact us for a free demonstration of the product range and our capabilities.
For technical assistance please see our Contact page for more information.