DefenCell: Military Applications
In The Field
Environmental
EOD Training
Training & Ranges
Bunds & Berms
In The Field
The versatility of DefenCell is repeatedly illustrated by the numerous new applications that users have requested or deployed. The lightweight and compact logistics package allows the system to be deployed quickly and economically from stores to meets varied requirements.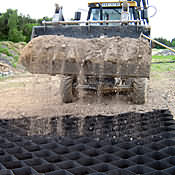 Environmental
DefenCell can be used for a range of environmental applications including flood protection, erosion control, slope stabilization and sediment control.
DefenCell GS can be used to provide stable, free draining platforms for HLS, Vehicle hardstanding and Camp Winterisation. The heavy-duty geotextile fabric construction adapts to the terrain while offering excellent structural strength and durability. Water filters through while fill material and soil particles are retained by the geotextile. DefenCell can be emptied and re-used as necessary.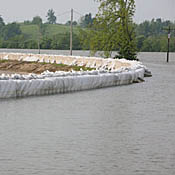 EOD Training
DefenCell behaves consistently when exposed to ordnance, helping troops safely conduct live explosive ordnance disposal/improvised explosive device disposal (EOD/IEDD) training without the inherent risk of secondary fragmentation.
The non-metallic construction ensures that accurate training with detection equipment can be carried out and search lanes or MSR can be realistically built.

Training & Ranges
DefenCell is a low maintenance, non-ricocheting tactical training ballistics barrier ideal for use on military, police and civilian firing ranges and shoot houses. Using minimal resources, labour, and training, the system produces permanent or improvised military firing ranges.
The materials used in DefenCell are chemically neutral and ideal for use in environmentally sensitive training areas. The barriers can be easily removed on completion and the 100% textile construction ensures no metallic residue.
The new Ranger is a shorter version of the LITE and is perfect for small emplacements and protecting pop-up target mechanisms.
Comprehensively tested, DefenCell barriers will stand-up to small arms, direct and indirect fires, various types of vehicle borne and individual explosive devices and other fragmenting weapons.
Applications
Live fire ranges
Explosive Method of Entry (EMOE)
Improvised field ranges
Sniper ranges
Partitioned ranges
Close quarter battle (CQB) houses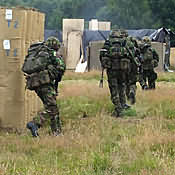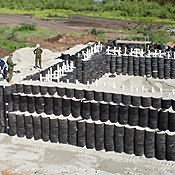 Bunds & Berms
DefenCell Profile bund systems are textile, cellular, containment systems which can be filled with various materials (sand, gravel and small rocks) to build structures for perimeter security, ammunition storage and HVM protection.
The layered construction technique combined with the cellular design gives the compacted fill strength and durability not available otherwise. Traverses and berms can be easily built to 4m or more on a relatively narrow base, saving space, time and labour.
Profile is made from proven materials and the neutral properties of the geotextile combined with the ease of landscaping, make it ideal for use in environmentally and visually sensitive locations. It can be easily turfed or planted and quickly blends with the surroundings while still providing a proven and substantial barrier.