DefenCell: Military Applications
Operational Protection
Artillery & Mortar Positions
Ammunition Storage
Airport Security
Fuel & Power
Operational Protection
The DefenCell System has been developed to enable force protection barriers to be rapidly deployed in operational conditions. Successive layers of DefenCell are built to the desired height.
Walls of any thickness or length can be produced to suit ballistic and vehicle impact requirements, using locally available fill materials including wind blown sand or reclaimed materials, and easily compacted to give DefenCell structural strength and durability.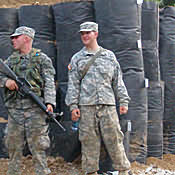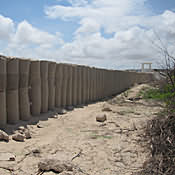 Artillery & Mortar Positions
DefenCell is ideal for the construction of protective positions for mortars and light artillery. Use LITE or DT1 to create an emplacement giving protection from ballistic threats up to 0.50 calibre and 14.5 mm, as well as from shrapnel and fragmentation.
A typical mortar pit can be built using 8 DT1 sections weighing a total of just 35kgs. A similar structure using sandbags would need over 1200 sandbags weighing over 200kgs. DefenCell is 100% textile with no metal or plastic parts so there is minimal risk of secondary fragmentation.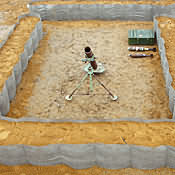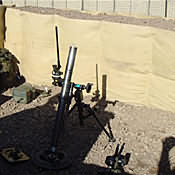 Ammunition Storage
DefenCell structures are completely non-metallic, removing the risk of secondary shrapnel, spall or compass and RF interference. It is ideal for the construction of structures surrounding, or in close proximity to, ammunition and bomb storage.
DefenCell was used to construct the protective walls surrounding the Ammunition Supply Points at Camp Bastion and Kandahar Airfield in Afghanistan. These were constructed in 2006 and recent examination showed minimal deterioration in either the appearance or strength of the structures.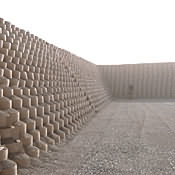 Airport Security
DefenCell Force Protection Systems are low-cost, aesthetically pleasing airport security barriers that can be implemented using locally available resources and minimum logistical requirements. Wall systems can be used to build permanent or temporary barriers and Profile provides unobtrusive perimeter security.
DefenCell's blast protection capabilities will protect aircraft and helicopters from mortars, small arms, rocket propelled grenades, and VBIEDs. The non-metallic construction eliminates damaging secondary fragmentation that can occur when using other Force Protection products.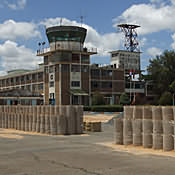 Fuel & Power
DefenCell Barriers are highly versatile and can be easily configured to build protective storage areas for fuel or water bowsers and storage tanks. DefenCell's light weight and logistical advantages allows engineers to quickly construct defensive perimeters using locally available granular fill materials (earth, sand, rocks or gravel). These barriers are equally effective protecting critical plant including generators and electrical/communications distribution equipment.
Unlike earth berms, which deteriorate and loosen from exposure to wind and rain, helicopter downdrafts and natural erosion, DefenCell's fill is contained and compactable for increased structural integrity. DefenCell is also stackable, allowing construction of high wall heights on a much smaller footprint than comparable earth berms.