DefenCell: Military Applications
Perimeter Protection
Ballistics Protection
HVM Barriers
Blast Protection
Perimeter Protection
DefenCell is designed to provide perimeter security, from enhancing existing security systems and fences, to providing structural integrity to long perimeter barriers. DefenCell can be built to virtually any height or width and profiled to provide protection against specific threats.
Ballistics Protection
DefenCell gives a high level of protection and has undergone extensive ballistic testing, against threats including ammunition up to 25mm cannon, as well as APDS and tracer. The strong non-woven fabric is durable and is only minimally affected by multi-shot attack.
Advantages
The completely non-metallic design mitigates the risk of secondary fragmentation and ricochet.
Bullet and blast tested against small arms, cannons, mortars, artillery, VBIEDs, and other fragmentation weapons.
Compactible for increased structural strength and integrity.
Built in redundancy of cellular design.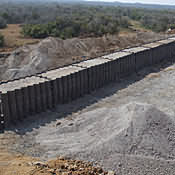 HVM Barriers
DefenCell products are ideally suited for Hostile Vehicle Mitigation and protection against VBIED, from long term perimeter security to temporary deployable barriers. From chicanes to access control barriers, DefenCell's versatility makes it the obvious choice for protective delay barriers. With different unit sizes, DefenCell offers virtually unlimited engineering design opportunities.
DefenCell Barriers, Profile and MC have been extensively and successfully tested against vehicle attack to meet UK PAS68 and US K12 standards. Profile and Barriers are installed as permanent protection in UK airports and various critical infrastructure while MC is a new and innovative solution for short term deployments.
Advantages
Stops and destroys explosive vehicles travelling at high speeds.
PAS68/K12 approved vehicle crash barrier.
Aesthetically pleasing and discreet designs that can be easily camouflaged or landscaped.
Easy to install and maintain.
Stackable to achieve greater vehicle impact capabilities.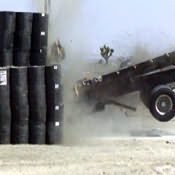 Blast Protection
Extensive testing has also been carried out to evaluate performance against a range of IEDs, shaped charges and simulated explosive weapons. DefenCell performs particularly well in blast mitigation tests as the cellular structure absorbs shock and minimizes shrapnel penetration.
Blast energy is dissipated across the length of the barrier, and the cellular structure absorbs fragmentation and ballistics damage.
Advantages
Mitigates the risk of secondary fragmentation.
Protects against mortars, rockets and other fragmenting weapons.
Absorbs fragmentation and ballistics.
Cellular fabric construction dissipates energy across length of barrier.