DefenCell: Security
Vehicle Barriers
Perimeter Security
ECP & Chicanes
Landscaping & Planters
Temporary Barriers
Vehicle Barriers
The increase in the threat from Vehicle Borne Improvised Explosive Devices (VBIED) and Hostile Vehicles has led to a need for effective protection systems to maintain maximum stand-off distance as well as blast mitigation in the event of an attack. DefenCell has been extensively and successfully tested against both VBIED and HVM and the cellular design dissipates energy along the length of the barrier very effectively.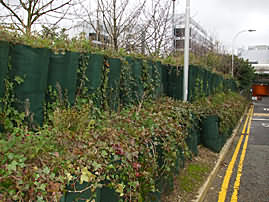 Perimeter Security
DefenCell is designed to provide perimeter security, from enhancing existing security systems and fences, to providing structural integrity to long perimeter barriers. DefenCell can be built to virtually any height and profiled to provide protection against specific threats. The Profile system has been successfully tested to PAS 68 standards and two standard versions are available to suit different threat levels. The ability of Profile to retain the suspect vehicle within the structure blocks a secondary attack.
Click here for the Profile 300 installation guide.

ECP & Chicanes
Vehicle Inspection lanes and traffic management at access points are essential elements of first line security for any building, industrial complex or security establishment. DefenCell is used to build chicanes, barriers and blockers to reduce traffic approach speed while at the same time providing protection to personnel and infrastructure from ballistic or blast threats.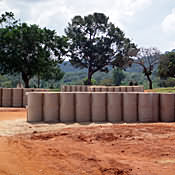 Landscaping & Planters
Once filled, DefenCell Profile can be planted or turfed to give a pleasing appearance and to complement existing landscaping schemes while still offering a substantial and proven barrier to HVM attack. Fitting DefenCell panels inside planters or behind existing walls has enhanced protection levels and helped aesthetic considerations while the cellular structure effectively dissipates crash or blast energy throughout the barrier.

Temporary Barriers
Although DefenCell barriers can be easily installed and quickly removed there are situations when this is not practical for reasons of time or environmental considerations of using local fill materials.
The DefenCell MC is a modular pre-filled barrier system using a simple metal frame to hold the cellular structure filled with polymerised sand. These one Metre Cubes are easily deployed and removed using a HIAB or forklift. The MC has been successfully tested to PAS68 crash standards as well as against blast threats.