DefenCell: Product Range
Berms & Bunds
DefenCell Profile is a range of specially designed cellular panels used to build substantial berms, bunds and barriers to meet a wide range of protective requirements. The layered construction technique combined with the cellular design provides a high degree of versatility in installation, integrating the barrier with the natural elements of the site. Profile is environmentally neutral but highly durable and can be easily covered or planted to provide an aesthetically pleasing barrier.
Barriers can be built to provide protection for camps and hospitals, aircraft and helicopter protection, as well ammo and fuel depots.
The outside surface of the traverse can be treated on location to blend into its surroundings or enhance its resilience. The traverse and wall systems are versatile and can be combined to provide a vertical wall on one side of the structure, turn corners and accommodate uneven surfaces and obstacles.
Products:
Profile 300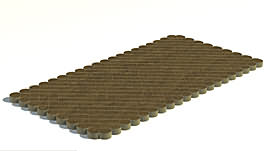 Profile 500